It can be hard to keep on top of trends as they are constantly evolving. Looking the part for your wedding is essential and you want your groom to look great too. The focus on grooms wear has become more prominent over the past few years. Here at Carrington Fabrics we've done all the hard work for you, so here are the top five trends for 2015 that all grooms need to know about.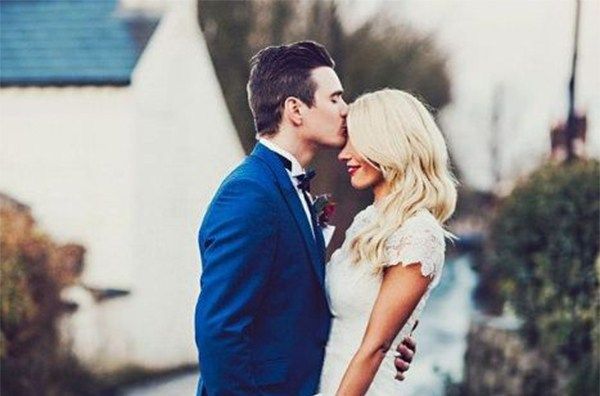 Mix it up with navy suits
Navy is a widespread menswear trend for this year and it is a great colour for the groom to wear. Mix things up a bit away from the traditional black or grey with a deep blue colour. It's not too risky either so you can guarantee your groom will still look great. Create a contrast by pairing with a crisp white shirt and you are gaining big fashion points.
Think old school
Vintage is majorly on trend and looking a bit mismatched is totally allowed right now. Seventies is the leading trend of 2015 so it's on trend to think a little bit old school. Enlarged jacket lapels and wider ties add to this look. Tartan, tweed or thick woollen blazers will be perfect for autumn/winter. Browns will resonate better with the end of the year too.
A touch of blush pink
Pink is slowly moving away from being just a 'girl' colour and doesn't have to just be used for your bridesmaids. Incorporating pink into menswear can look seriously stylish if you get it right. The trick is to add just a touch of a blush pink. The colour is great for spring/summer and looks fresh and clean. Wear it as a silk pocket square, a fuschia buttonhole, or be bold in a subtle pink shirt or tie.
Neckties not bow ties
Bowties add a traditional touch to any wedding but neckties and neckerchiefs are overtaking them in the style factor. The look is effortless and works best with a relaxed slim-line tailoring. You can be as simple or fun with the tie as you like. Stick to spots or be a little more artsy with a paisley print. Cotton or silk ties work just as well so try out the look.
Sunshine yellow glow
Yellow made its way into bridal fashion but now it's hit menswear too. Think about incorporating a sunshine yellow for a summer wedding. The bright pop of colour will add a more unique feel to your wedding. There are simple ways to work the glow such as having complementary yellow bouquets and a yellow tie. It doesn't have to be a risky colour anymore!
View our full collection of fabrics here at Carrington Fabrics by registering for our fabric book. We have experience supplying high quality textiles for wedding and events across the country. Contact us for further information and find more wedding tips on our blog.