Deciding on your bridesmaids' dresses can be just as hard as deciding on your own bridal dress. At Carrington Fabrics we know how important it is to get the right fabric, fit and style for your dress. Your girls are likely to have different tastes and preferences so we've let you in on a few of our top tips for styling mismatched bridesmaid dresses, the right way.
(via Belle The Magazine)
Keep the length the same
One of the biggest things that separates the good from the bad mismatched bridesmaids' dresses is the hem line. Choosing different length dresses makes it harder to create an overall cohesive look. Once you've decided on the hem line though you can play around more with the colour, style and fabric of the dresses.
Decide on a colour palette
Thinking about the colour palette of your bridesmaids' dresses can help co-ordinate the rest of the wedding colour scheme. Mismatching dresses allows you to mix up the more uniform tradition of weddings, but too many colours at once can make the wedding party a bit disjointed. This could affect the beauty of your wedding photographs.
Different colour dresses are very popular at the moment; it is important to know what works well together. Know what will look good against the skin and hair colour of your bridesmaids. You might decide to work with the same shade in different styles or various shades of the same principle colour.
Limit the features you vary
You want to look stunning for your own wedding but consider how to best flatter your bridesmaids too. We advise that you only vary a maximum of two features with their dresses so that you still fit together nicely as a group. Options for mismatching could include:
same colour, different style (ie. fabric, texture, neckline, and/or pattern)
same colour, different shade (ie. a cream-pinkish palette)
same style, different shades (ie. halterneck, one shoulder, sweetheart scoop)
same dress, different styles (ie. different accessorises, bouquets, hairstyles)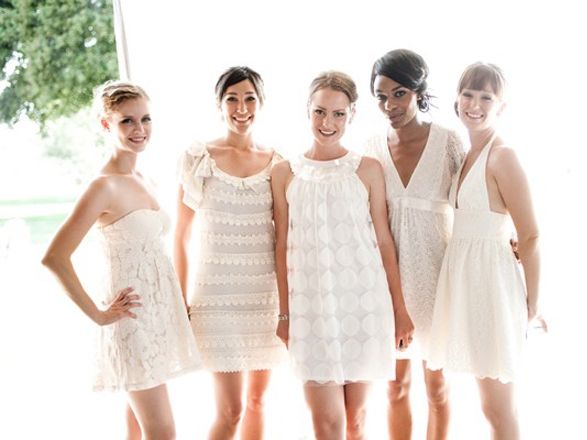 (via Belle The Magazine)
Talk to your bridesmaids
With so many ways to shake up your wedding and make it truly unique you will be spoilt for choice! Sit down with your bridesmaids and ask if they have any ideas of their own. Don't forget it is your big day but they may be able to help; once you know what suits each of your girls it can be easier to make decisions. Letting them choose their own dresses without any guidance can be risky but it is always good to have different options to play around with.
At Carrington Fabrics our wide range of luxury bridal and dress fabrics makes us one of the top choices for wedding fabric suppliers. Our high quality fabrics in a variety of prints and colours will help you find something perfect for you and your bridesmaids. Sign up for an account today to view our fabric book or get in contact with our Bolton offices. We're here to make you wedding beautiful.